What is Transformative Insight Imagery®?
Transformative Insight Imagery is an effective coping strategy and relaxation technique that can be infused into your everyday rituals. T.I.I. teaches you how to effectively shift, settle, relax, gain insight, connect to wisdom and love at any moment on your own.  
You begin your T.I.I. experience by traveling to your own, personal place for relaxation and deeply connecting to this place through all of your senses. You will actually get to see, smell, hear, feel, and even taste your surroundings by connecting to your own unique and powerful resources. Each imager will have their own private imagery experience that they will learn how to incorporate into everyday life. 
You will also connect to the love and support of a wise guide/mentor and then actually meet your right and left brains while initiating a greater balance between the two. Imagers are frequently astonished at the visceral and creative resources that they discover! 
Online and in person Transformative Insight Imagery® trainings and retreats are available!
Two Tracks of Training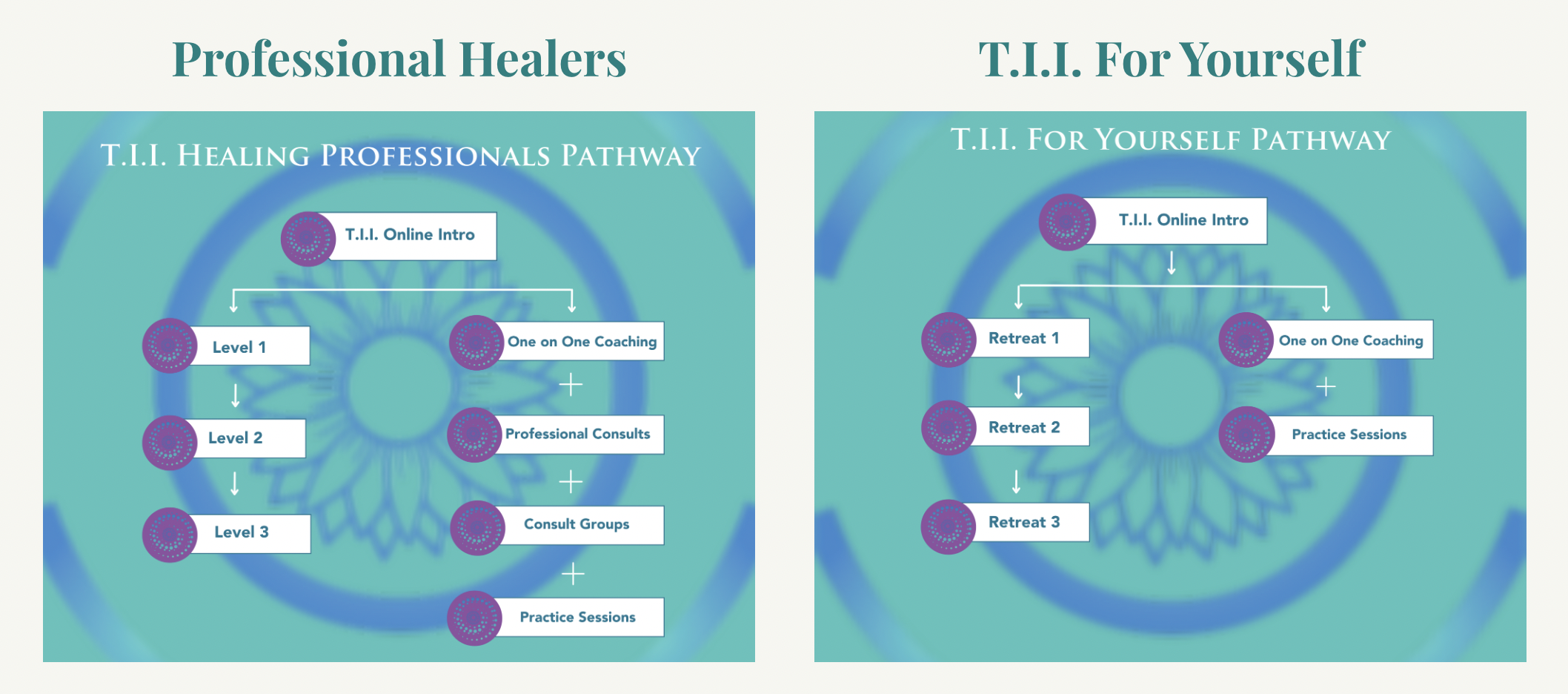 Transformative Insight Imagery® trainings are offered in two healing tracks: for those who are looking to self heal and to those who provide healing to others. T.I.I. is a versatile, powerful, transferable tool that will expand and supplement your other techniques in exciting and creative ways.
Trainings for Professional Healers and caregivers will focus more on developing co-facilitation skills for integrating TII professionally, while the healing retreats will focus on experiencing deep healing as an imager and integrating healing into current life. All T.I.I. trainings and retreats are experiential in nature, as we believe "learning by doing" expands our capacities.   
Self Healers will complete Transformative Insight Imagery Online Introduction and then will be eligible for monthly Coffee With Kelli practice sessions, Healing Retreats, and one on one coaching sessions with Kelli. 
Participants consistently leave the all day workshops amazed and in awe of how transformative the work is and how immediately useful it is. "Worth every dollar," "fantastic," and "I can't wait for the next workshop!" are frequent comments. 
Benefits of T.I.I.:
Decrease stress and anxiety by using resources.
New insights about yourself.
Enhanced  self- trust
Increased body awareness
Greater connection between mind, body & emotions
Use T.I.I. resources independently and immediately for creating remarkable shifts in your current life.
Regulate emotions more effectively 

Heal traumatic experiences, blocking beliefs, and fears.
Ready to experience Transformative Insight Imagery?
Discover a wealth of internal resources for creating immediate and powerful shifts in your life!
Want to hear more? Check out these stories!
Want Your Free Transformative Insight Imagery Audio Sample?

Sign up below and we'll send it to you! You'll also be added to our list to be updated on live trainings and upcoming TII Courses!
We hate spam too. Unsubscribe at any time.