Transformative Insight Imagery - For Yourself
Transformative Insight Imagery is not guided imagery, it is not just visualizing, and is not hypnosis. In T.I.I. all the images come from the imager and are not directed by a facilitator.
T.I.I. invites using all of your senses, not just visual, while you are awake and aware of your surroundings. T.I.I. is an amazing experience, similar to entering your dream world, but you are the writer, actor, and director!   
In Transformative Insight Imagery, we begin by discovering our inner resources and connecting to support and wisdom. Each imager discovers and connects to their own unique experiences of support and then we practice accessing our resources to shift any moment.
T.I.I. empowers imagers that they have an abundance of trusted resources to face their fears and transform into their "best self." 
Once we have several powerful resources to support us, we are ready to for a deeper dive into Transformative Insight Imagery's 8 step process for transformation.
Imagers may experience releasing stuck beliefs, emotions, or events and transforming what has been held in powerful new ways, and then integrating their experience and insights into the present.  
Benefits of T.I.I.:
Decrease stress and anxiety by using resources.
New insights about yourself.
Enhanced  self- trust
Increased body awareness
Greater connection between mind, body & emotions
Use T.I.I. resources independently and immediately for creating remarkable shifts in your current life.
Regulate emotions more effectively 

Heal traumatic experiences, blocking beliefs, and fears.
Who is it for?
Anyone who desires tools that can implement successfully and immediately into their life.
Anyone seeking self improvement, self awareness, and healing.
Anyone 18 and older for attending the group experiences. 
Who is it NOT for?
If you have experienced delusions, hallucinations or significant dissociative disorders, Transformative Insight and Imagery may not be a good fit for you.
***Participants must attend the following offerings in the order listed.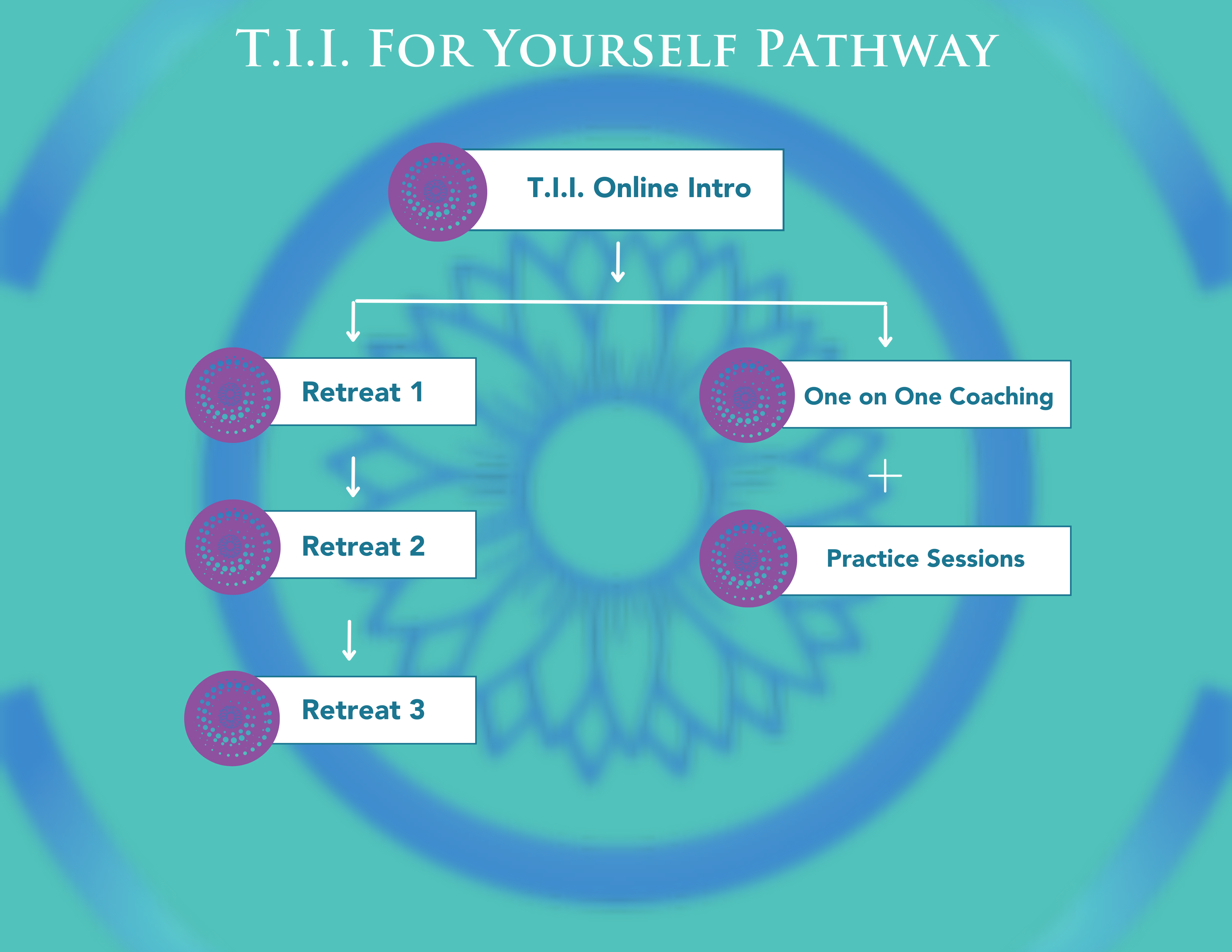 Transformative Insight Imagery Online Introduction
This is not another online class, this is you experiencing T.I.I. and learning HOW to use it in your life now. Whether you are seeking support for yourself or you want to support others, in this introduction, you will understand what Transformative Insight Imagery is by experiencing it and practicing ways to incorporate it into everyday rituals.
Attendees will strengthen these resources by imaging current situations and practicing accessing their resources, knowing HOW to integrate them into life immediately, relieving stress, anxiety, and uncertainty instantaneously! 
At the end of these two hours, you will be inspired, resourced, and ready for more transformation for one of the paths below:
For Self Healers: Once you have completed the T.I.I. Online Introduction, you will be able to continue practicing with Kelli in One-On-One Coaching, Healing Retreats, and FREE monthly Coffee with Kelli practice sessions. 
What to Expect
Each imager will image privately as Kelli facilitates the group. She loves to see your faces, but she respects your decision to keep your camera off. Kelli will often ask benign questions inviting those who are comfortable to share via chat, emoji, or verbally which are all optional. Hearing the diversity of discovered resources enhances the group experience.
2 hours online, open to anyone over the age of 18
No CE's offered
Cost $40
Transformative Insight Imagery Retreat Part 1
In this two day healing retreat, you will strengthen your inner resources from Transformative Insight Imagery Online Introduction, discover additional supportive resources, and journey into deeper healing. Transformative Insight Imagery's 8 step process is a safe, empowering, insightful, and transformative experience!
You will choose an area of the body to bring healing to and will re-connect to a lost part of yourself as well as how to witness and support a partner in their imagery experience.
You will decide how much to share with the group and where to go in your imagery experiences. The process of doing T.I.I. teaches you to trust yourself and gain mastery in integrating T.I.I. effectively into your life!
2 day retreat (open to anyone who has completed the T.I.I. Online Introduction)
No CE's offered.
Get More Information About Upcoming Retreats
Healing Retreat Weekend Part 2
Building on T.I.I. Healing Retreat Part 1, imagers travel on more adventures towards wholeness, healing, self -trust while expanding their supportive resources within! Part 2 offers a holographic experience of being a unique individual and  connected to the community. Imagers often have moving spiritual experiences/ higher consciousness that align with their individual beliefs, and gain clarity on how to integrate greater wholeness and awakening into their life.
2 day retreat (open to anyone who has completed the T.I.I. Online Introduction)
No CE's offered.
Apply for a scholarship!
Transformative Insight Imagery Scholarship Forms For Healing Yourself
Scholarships are offered in tribute to the life and career of Dr. Charlotte Smith, creator of Transformative Insight Imagery.  Charlotte was a loving, truthful, kind, wise, therapist, teacher, friend and mentor to many. Everyone who met her was deeply moved by her unconditional love and acceptance and her awakened consciousness. In Charlotte's final years, she wished for T.I.I. to go out to the world and was sensitive to T.I.I. reaching marginalized individuals and groups. To continue Charlotte's legacy, we are seeking healing practitioners who are passionate about T.I.I., intend to touch lives by introducing T.I.I., and demonstrate financial hardship that prevent them from attending the trainings otherwise. 
Send an email to Kelli@KelliUnderwood.com with the subject, "T.I.I. Scholarship Application" and include: 
Your letter of intention. Please include in your letter:
Share briefly about yourself.
Share your motivation for attending the Transformative Insight Imagery trainings.
Your vision of how you will refer individuals, groups, and communities to T.I.I. Please share any marginalized groups or individuals you can connect to T.I.I.

 
Scan and email your most recently signed copy of tax returns.
Submit two reference letters. Please identify two people (not a spouse/partner or close relative) to provide an accurate assessment of your readiness for Transformative Insight Imagery.
Please have your references answer the following questions:
How long and to what capacity have you known this applicant?
How would you gauge the applicant's capacity for commitment to T.I.I. retreats?

 
Get started now.  Want to discover your inner resources?  
Purchased the T.I.I. Scripts & Audio of T.I.I. HERE